Pakistan, a country blessed with diverse landscapes and breathtaking natural beauty, is a haven for adventure enthusiasts and thrill-seekers. From towering peaks to roaring rivers, Pakistan offers a wide range of adrenaline-pumping activities that cater to every adventure lover's taste. In this blog, we will explore the best adventure activities in Pakistan that will leave you exhilarated and craving for more. So, fasten your seatbelts and get ready for an adrenaline-fueled journey!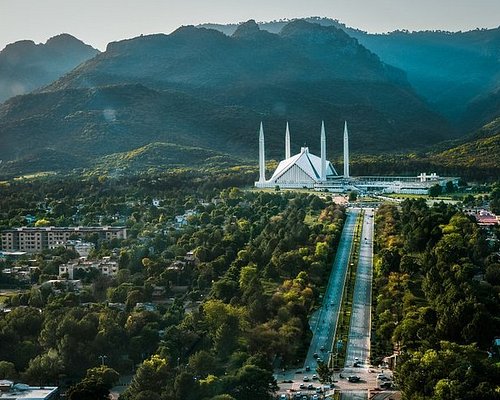 If you want a luxurious tour of Pakistan make a call to the best Pakistani travel agency and get the Pakistan travel packages at low prices and make your trip to Pakistan unforgettable. 
Unleash Your Adventurous Spirit-Exciting Activities Awaiting In Pakistan
From conquering majestic peaks to navigating roaring rivers, Pakistan offers a diverse range of adventure experiences for thrill-seekers. It's time to unleash your adventurous spirit and explore the exhilarating side of Pakistan. Here is the list of exhilarating adventure activities that await you in Pakistan. 
Trekking In The Karakoram Range
Pakistan's Karakoram Range, home to some of the highest peaks in the world, presents an unmatched opportunity for trekkers. Embark on an epic adventure as you trek through the breathtaking valleys, cross challenging mountain passes, and witness awe-inspiring glaciers. K2 Base Camp Trek, Nanga Parbat Rupal Face Trek, and Fairy Meadows Trek are among the popular treks that offer a blend of stunning vistas and thrilling experiences.
White Water Rafting In The Indus River
For an adrenaline-pumping water adventure, head to the mighty Indus River. The swirling rapids of the Indus provide the perfect setting for white water rafting. Brace yourself as you navigate through the gushing waters, maneuvering around rocks and experiencing thrilling drops. The sections near Skardu and Gilgit are particularly renowned for their challenging rapids, offering an exhilarating ride for rafting enthusiasts.
Paragliding In The Hunza Valley
Experience the thrill of soaring through the skies like a bird by indulging in paragliding in the enchanting Hunza Valley. Launch yourself from the lush green meadows and enjoy panoramic views of snow-capped peaks, turquoise lakes, and picturesque villages below. The gentle breeze and stunning scenery make paragliding in Hunza an unforgettable adventure.
Rock Climbing In The Margalla Hills
The Margalla Hills, located near Islamabad, provides a playground for rock climbers of all levels. Test your skills and strength as you conquer challenging rock faces and ascend to breathtaking heights. With various routes available, both beginners and experienced climbers can find suitable challenges to push their limits and enjoy the thrill of rock climbing.
Jeep Safari In The Cholistan Desert
Explore the vast expanse of the Cholistan Desert in a thrilling jeep safari. Hold on tight as you traverse the golden sand dunes, experiencing heart-pounding moments with every ascent and descent. Immerse yourself in the desert's raw beauty, visit remote villages, and witness the vibrant culture of desert dwellers. The Cholistan Desert jeep safari promises an adventurous and unforgettable journey.
Caving In The Tora Bora Mountains
For daring adventurers, caving in the Tora Bora Mountains offers a thrilling exploration of the hidden underworld. Gear up with headlamps and protective equipment as you navigate through winding tunnels, crawl through narrow passages, and discover stunning rock formations and underground rivers. This adrenaline-fueled activity is not for the faint-hearted, but the unique experience and sense of discovery make it truly unforgettable.
Skiing In The Swat Valley
During the winter season, the Swat Valley transforms into a winter wonderland, perfect for skiing enthusiasts. Strap on your skis and glide down snow-covered slopes, surrounded by pristine mountain landscapes. Malam Jabba Ski Resort offers well-groomed slopes and ski rental facilities for both beginners and experienced skiers. Experience the thrill of speeding down the mountainside, and let the scenic beauty of Swat Valley take your breath away.
Hang Gliding In Khanpur Lake
For an adrenaline rush combined with panoramic views, try to hang gliding over Khanpur Lake. Launch yourself into the air and experience the freedom of gliding through the skies. Feel the wind on your face as you take in the stunning vistas of the lake, surrounding hills, and the distant horizon. Hang gliding in Khanpur Lake offers an extraordinary adventure that will make you feel like you're flying.
Mountain Biking In The Kaghan Valley
Get your adrenaline pumping with mountain biking in the picturesque Kaghan Valley. Traverse rugged terrains, navigate through forest trails, and conquer challenging slopes as you explore the natural beauty of the valley. The scenic landscapes, gushing rivers, and dense forests provide a thrilling backdrop for your biking adventure. Strap on your helmet, hop on your bike, and get ready for an exciting ride through nature's playground.
Now you can make a call to your trustworthy travel agents in Pakistan and enjoy domestic tours like Skardu tour packages, Malam Jabba tour packages, and other tours without making your wallet empty.
Conclusion
Whether you're an adrenaline junkie or simply seeking a thrilling experience, Pakistan offers a treasure trove of adventure activities that will leave you breathless and craving for more. From towering peaks to roaring rivers and vast deserts, this diverse country provides the perfect backdrop for adrenaline-pumping adventures. So, what are you waiting for? Pack your bags, make a call to reliable travel and tours, and immerse yourself in the best adventure activities Pakistan has to offer. Your next thrill awaits!