Are you planning to have a memorable honeymoon? All newlywed couples ought to think about deciding on a honeymoon as it has so many enjoyable things. A honeymoon should offer much-needed rest and relaxation following a stressful day of marriage planning and preparations. So why not pick Dubai for a carefree and fun honeymoon? In this blog,  we offer advice on how to book your ideal getaway and honeymoon package for the most amazing sights and unique experiences. 
Choosing Dubai Is A Great Idea
One factor you can be assured of when choosing a location like Dubai for a honeymoon: it'll be exotic, lavish, and luxurious. With year-round sunlight, magnificent architecture and scenery, luxury shopping malls, and opulent dining options, honeymooners can expect to be treated like royalty.
Dubai is a terrific destination for newlywed couples because it has many romantic spots and attracts tourists from all over the world for its attractions and shopping. Dubai is unique from other places because of the exceptional quality, uniqueness, and facilities of the hotels.
How Do Book Dubai Honeymoon Package?
If you are traveling from Pakistan, then Dubai is the ideal option for a honeymoon excursion.   The simplicity of the visa application procedure is the icing on the cake. Simply hand the required documentation to your travel agency anywhere in Pakistan for dubai, and the process will be completed within 4-5 days. Furthermore, obtaining a visa can be done quickly if you need one right away, allowing you to leave for your location while you're still packing.
Visa Processing And Documentation
Pakistani citizens must pay a cost of 90 USD when submitting for a brief tourist visa to Dubai; the fee is 330 USD when applying for a long-term tourist visa. If you're traveling from Pakistan to Dubai, the procedure is really easy. Simply put, if you do not have any legal consequences, getting a visa is simple. You must include the following documents for your visa application if you have a Pakistani passport:
Your copy of CNIC

Valid passport for at least six months

Copy of the first two pages of the passport

2 passport-sized pictures(with white background)

A valid return ticket to Dubai (from your time of travel)
Flight Booking
The tickets you purchase will have a big impact on your overall budget. If you purchase the tickets within an acceptable duration, you might receive fair and discounted pricing. However, the price difference can make purchasing the ticket difficult. Although booking through a travel agency will save you money on the trip since they have connections to software and multiple partnerships that can get you the tickets for a very low cost.
Covid-19 Policy
Everyone traveling to the UAE is required by law to have insurance travel with a Covid-19 policy. You won't spend a lot of money, so don't panic, but it could cost some hundred dollars in case of becoming sick, something unexpected happens, or your luggage is stolen or misplaced.
Accommodation
Your budget for your Dubai holiday will be largely consumed by the cost of your hotel accommodations. It is an outcome of Dubai's pricy hotels. You could visit during the busy season (December to February).
A nice 3-star hotel room in Dubai involves paying 700 AED for two people, which includes breakfast. But if money is limited, you may locate a number of cheap hotels in the ancient resorts, where you get one room with a double bed and the breakfast option frequently in just 300 AED.
Transportation
The mode of transportation you choose and the area of the city where you decide to stay will affect your transportation expenditures in Dubai. Due to Dubai's immensity, its most popular attractions are spread out over the entire city.
However, Dubai is easy to explore for a trip or a honeymoon and has a great public transit system. Transport options include buses, trams, water buses, subways, and even monorails. Renting a car or taking a taxi will get you where you're going considerably faster, and neither of these options will cost you any money. 
Tour Guide And Insurance
The tour guide is by far the most crucial component of our tour package. It all depends on your tour company as to what kind of tour guide and extra features, such as medical services and basic first aid, the company will offer you in order to enhance and personalize your journey. For instance, you may wish to stop in the en-route states that are worthwhile, but your tour guide did not offer you all the details, as a result, your honeymoon tour may be for naught. Just for that, you want to think about choosing the one that provides you with the right tour guide.
Additionally, the majority of travel agencies did not offer travel insurance. However, getting travel insurance is usually a smart idea and the best travel practice if you intend to travel abroad. It is possible when you use the services of the top travel agencies, which provide you with all the amenities, including travel insurance. For this purpose, you can contact us as it also gives you the best travel insurance before booking a tour or honeymoon package in Dubai.
The Worth-Seeing Attractions To Explore During  Honeymoon 
There are numerous such celebrations and events throughout the nation where you can spend quality time with your sweetheart. Stay at one of the appealing beach resorts first for the perfect Dubai honeymoon. Then, enjoy romantic dinners at upscale restaurants, relax at spas, or embark on thrilling excursions with your partner. In my experience, your ideal honeymoon package in Dubai can be planned with the assistance of Litso Traveling Agency.
Keep in mind that the cost of your Dubai honeymoon may vary depending on your preferences. Visitors can easily plan a budget-friendly honeymoon in Dubai. You can also get in touch with the right travel agency so you can simply leave and take a lavish vacation you won't soon forget!
Services Of The Travel Agency-Which Should Be Considered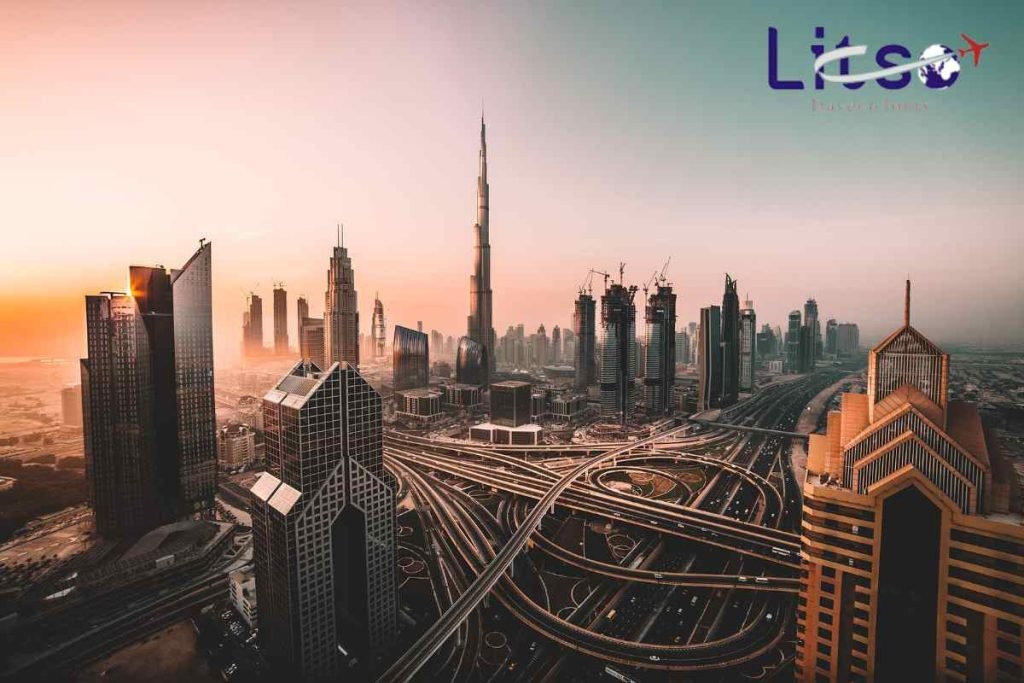 Considering all the domains like accommodations, transportation, ticket processing, and many other things, you must have to consider the ideal travel agency that not only gives you the ideal and memorable honeymoon tour package but also gives you many other facilities according to your choice and ease and make your honeymoon tour more enchanting. Litso travel and tour is a company that serve their customer for many years. With its great service, it is not only the ideal travel agency but also gives you a travel and honeymoon tour package according to your desire. Here is the detail of the service offered by the company.
5 Days Dubai Honeymoon Package From Pakistan
Day 1_Fly from Karachi to Dubai, where you will be met and taken to your hotel for the night.
Day 2_ Dubai city tour in the morning; free time for shopping in the afternoon. Evening pick-up at 6:30 PM for a Dubai Dhow Cruise dinner. Around 9:30 PM, return to the hotel.
Day 3_evening Pickup at 4:00 Pm for a desert safari in Dubai, followed by dinner and an overnight stay at the hotel
Day 4_ Return to Dubai after a full-day tour to Abu Dhabi, where you'll see the Sheikh Zayed mosque, the corniche, and Qasr-al-Hosan.
Day 5_ Transfer to the airport for the homeward trip
7 days Dubai Honeymoon Packages From Pakistan
Day 1- Once you reach Dubai Airport, a representative will meet you and take you to your hotel so you can check in. Dubai overnight stays
Day 2_Spend the day at your leisure after breakfast. Set out on a visit to Dubai in the afternoon with your expert tour guide. Tour of Dubai City Dubai overnight stays
Day 3_ Day in Dubai is free after breakfast. Evening in safari desert, Dubai overnight stay
Day 4_ Dinner on a Dubai Dhow Cruise following breakfast Free Day and Dinner Dhow Cruise. Dubai overnight
Day 5_Free Day in Dubai. Dubai overnight stays
Day 6_Dubai Wild Water Park, Dubai overnight stay
Day 7_ Dubai Transfer to your hotel if you want to remain longer or to Dubai Airport if you want to catch a flight back or to your home country.
Service Included
Airport transfer

3to5* Accommodations

Tour guide as required

Personalized custom tour

Quality meals, as mentioned
Service Excluded
Any extra meal or beverage

Any other residency choice

Anything not stated to be included

Any ticket is other than that mentioned
Bottom Line
So, your honeymoon is complete with a variety of activities and locations. Be sure to thoroughly research every notion, make a plan, and have pleasure on your honeymoon. For a newlywed couple, Dubai has a lot to offer, ranging from inexpensive resorts to the world's tallest buildings. To achieve this, you may choose best travel agency which offers you excellent and reasonable services to book your honeymoon tour package in Dubai.