What precisely do you hope to get out of your honeymoon? That is a query that you and your loved one must ask yourselves while thinking about Pakistan as a romantic getaway. Every couple wants that their honeymoon must be an opportunity to show a moment they will never forget, even though some prefer sheer comfort to adventure. 
You've spent saving up for this trip; for some vacationers, it's their first significant getaway with a sizable budget. Therefore, there's something on the list of top honeymoon packages in Pakistan for everyone, whether you're seeking an opulent experience, a private retreat in the woods, or unmatched luxury.
Best Places For Honeymoon In Pakistan
Couples often decide to take their vacations in their nation for a variety of reasons. Some people's marriage and honeymoon arrangements have been completely altered by COVID-19, and having a domestic honeymoon appears to be the only choice. Others are too tired out from organizing their marriage to take a lengthy flight, while a few couples must stay in the nation while figuring out the practicalities of immigration and visas. 
Several partners who have toured the world have come to the realization that there is a lot to see and experience at home. So, if Pakistan is your initial or last choice for your honeymoon, we're here just to advise you that the opulent domestic choices will astound you.
Without a doubt, there is passion in the air in this gorgeous valley. This valley, which is in Pakistan's Khyber Pakhtunkhwa region, is the most popular place for summer honeymoons there. Much couple travel to Naran and the Kaghan Valley for their honeymoons because it is a well-known travel destination. This region is well-liked by newlywed couples because of the quiet and peace that permeates the area.
The Neelum Valley, often known as the "Blue Beauty of Pakistan," is considered to be Azad Kashmir's most beautiful valley. It has many rivers, streams, woods, mountains that are lush with vegetation, and brooks. The cascades enhance the idyllic ambiance. Not to mention that during the 2005 disaster, these were the most severely affected regions of Pakistan. However, it has already made a name for itself through its beauty, which further makes it the ideal vacation spot for newlyweds.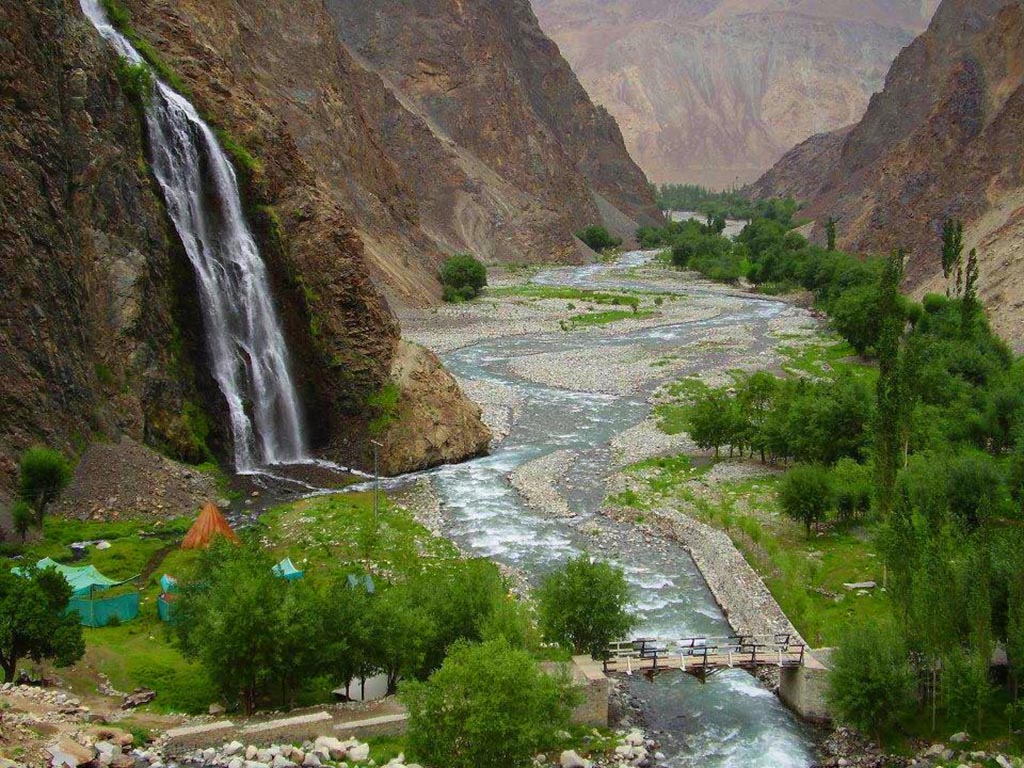 Take your partner to Skardu, the paradise on earth, if you wish to foster romance both during and after the experience. Another fantastic location for honeymooners is Skardu, which is close to some of the world's tallest mountains. This buddy-buddy location attracts a ton of visitors from all over the world thanks to its hypnotic surroundings, which is also the reason it has received media attention. This location, surrounded by a number of beautiful lakes, has a plethora of options for honeymooners.
Hunza is without a doubt the perfect place for couples considering a vacation in the spring. The mysticism that permeates this location is what I find most astounding. Just discussing the location of this amazing location will reveal that it is right at the doorway of the majestic Himalayan and Karakoram hill ranges. Don't you think that's exciting? Meadows that are pleasing to the sight, plants bursting with many colorful flowers, and lush green surroundings—everything is spot-on.
It is fair to say that Murree is Pakistan's most popular and ideal location for a honeymoon. Thousands of people swarm here yearly to avoid the hot weather or to spend some quiet time alone. It has excellent housing options, retail options, and a lot more. Murree is frequently considered the top honeymoon destination in Pakistan by couples. Its accessibility and pleasant weather are the primary drivers of its attractiveness. 
Mabali Island Tours
At the Khanpur Dam, the lovely Mabali Island is without a doubt a secret paradise. It is also a family-run facility that offers upscale caravans and huts next to the lake along with exclusive water sports and activities. Individuals here have a natural knack for hospitality and are competent in water sports. After getting married, it's a great area to vacation in a natural atmosphere with your partner.
Chitral Valley Tours
The gorgeous Chitral Valley is another wonderful vacation opportunity for couples. Previously, the Valley was ignored due to a lack of infrastructure. However, the Lowari Tunnel was recently constructed, making it much easier for visitors to get to the area. Chitral Valley is a great place to stay because it has a lot of inexpensive hotels and lodging options.
Kumrat Valley is also another excellent option if you want to spend some of your wedding holidays in a natural setting and far from the rush of city life. While getting there would provide some challenges, they will be minor in comparison to the grandeur of the place. This valley is even more beautiful in person than it is in the pictures. In the Kumrat Valley, there are a lot of lovely green meadows and woodlands. Although the lodging options in Kumrat Valley aren't luxurious, they nonetheless uphold a good quality for newlyweds.
Conclusion
I hope that this list of the best honeymoon destinations in Pakistan will help you decide on a place to go. If you are looking for something more traditional and less expensive, then consider visiting Hunza Valley or Naran Kaghan Valley. When it comes down to it, there's no shortage of beautiful places in Pakistan. So don't worry about finding one that fits within your budget and has all the amenities that you want! You may contact the best travel agencies in Lahore to get fantabulous traveling services.