A worldwide tour is undoubtedly something that the majority of us dream about from a young age, and for the vast majority of us, taking one is a once-in-a-lifetime chance. The cost can be a headache and a lot of work when you eventually get the chance. In this blog post, I'll give you the detail about average travel costs to Dubai.
So stay here if you want to hit the best!
How Much Does A Trip To Dubai Cost?
Dubai is not inexpensive, but that is true elsewhere in the globe. It all relies on your choices. If you compare the price to other important cities around the world like London, New York, and Paris, it may be an expensive trip package for you. The difference is that Dubai isn't a walkable city and, in essence, you have to pay to see all the tourist attractions. On the other hand, in these three destinations, there are several free activities to do and you can simply stroll around sightseeing.
The cost of your trip to Dubai will depend on your travel preferences. It will take more to just spend the time in five-star resorts and hotels eat solely at top restaurants and take cabs than it will to stay in three-star resorts, eat at neighborhood restaurants, and take public transportation. If you're worried about the amount of money you'll spend while visiting Dubai, make sure to carefully organize your budget so that you can afford the vacation. Considering the ideal travel agency might be the best option for you. Here are some domains that you should consider to find the cost before starting your trip to Dubai.
Cost Of Visa Processing And Documentation
If applying for a short-term tourist visa to Dubai, Pakistani nationals must pay a charge of 90 US dollars; however, if applying for a long-term tourist visa, the fee is 330 US dollars. The cost of a single entry for a work visa in Dubai is 100 USD.
The process is really simple if you are coming from Pakistan to Dubai. Simply said, acquiring a visa is easy if you don't have legal issues. If you hold a Pakistani passport, then you have to submit the following documentation with your visa application:
Your CNIC copy

Passport with at least 6 months validity

A copy of the passport's first two pages

Two passport-sized photos (with white background)

A valid Dubai return ticket (for your dates of travel)
A Tip– It's simple and hassle-free to travel to Dubai; you just have the necessary paperwork ready before beginning the visa application procedure.
Cost Of Flight Booking
Your overall budget will be significantly impacted by the tickets you buy. You might get fair and discounted prices if you buy the tickets in a reasonable timeframe. The price difference, however, may present a challenge when buying the ticket. Although using a travel agency is better for the trip because they are connected to numerous partnerships and software that can provide you the tickets at a very affordable price.
Travel Insurance
The government of the UAE mandates that everyone visiting the nation carry travel insurance with Covid-19 coverage. Don't worry; it won't break the bank, but it could save you a few hundred dollars if you become sick, something unforeseen occurs, or your luggage is stolen or lost.
Accommodation
The price of your hotel accommodation will take up a significant portion of your vacation budget for Dubai. It is a result of the expensive hotels in Dubai. You may go during the peak period (from December to February).
In Dubai, a decent 3-star hotel room with breakfast typically costs 700 AED (£145/US$190) for two people. However, if you're on a tight budget, you may find a variety of inexpensive hotels in the old resorts, where you are provided with one room having a double bed and the facility breakfast often costs 300 AED (£60 or US$80).
Transportation
Your transportation costs in Dubai will depend on the form of transportation you use as well as where in the city you choose to base yourself. Dubai is a large city, thus the most well-liked attractions are dispersed around the entire city.
However, Dubai boasts a fantastic public transportation system and is a simple place to explore. You can travel by bus, tram, water bus, subway, and even monorail. You can reach your destination much faster if you rent a car or take a taxi; none of these options is expensive. But the costs of your trip to Dubai will increase.
Tours And Tourist Attractions
Naturally, you'll want to go on tours, visit some tourist sights, and have fantastic experiences once you're in Dubai.  Some of the top activities to do in Dubai include ascending to the top of the Burj Khalifa, the world's tallest building. Moreover, taking a desert safari tour, strolling through the lovely Miracle Garden of Dubai, going to ride at Sky Views for the glass slide, and taking in the beautiful scenery of the palm islands just from the view at Palm.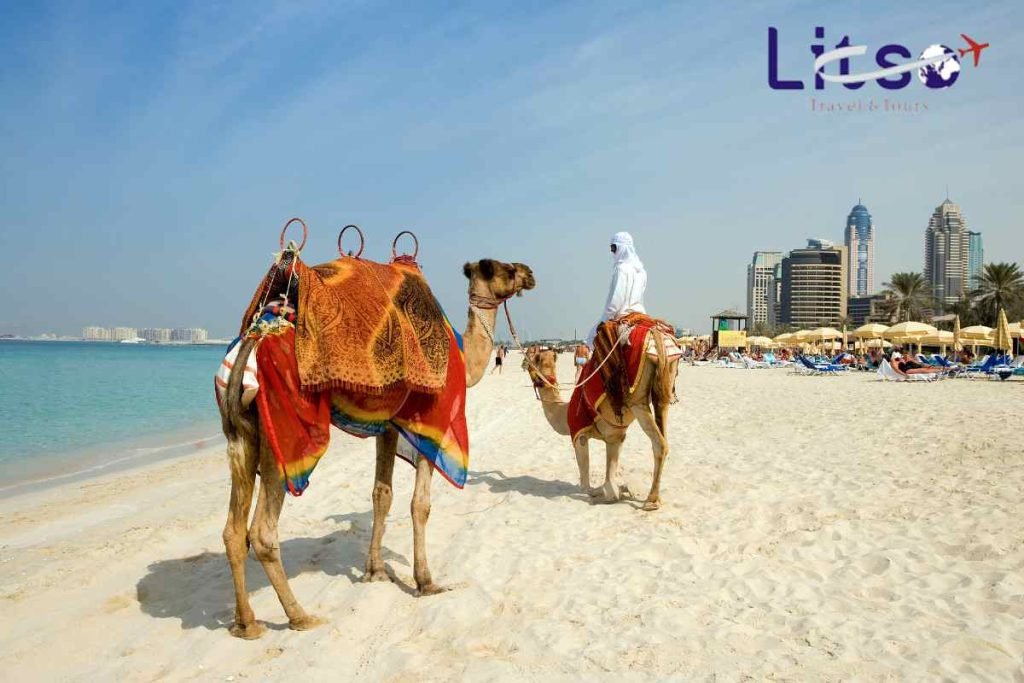 If you're still shocked and curious about activities in Dubai that you can take part in without spending a dime, check out Dubai's Culture and Heritage, Free Entry at the Camel Museum, Free Classes for Yoga, Movies Under the Stars, View of the Dubai Aquarium, Access to the Jumeirah Beach Seafront, Car Gazing, and Pehlwani Wrestling. These activities will allow you to indulge in luxury without breaking the bank.
Food and Drinks
You'll have a lot of options when dining out in Dubai because there are so many different places to choose from. There are budget eateries, well-known restaurant chains (like McDonald's, Nando's, Pizza Hut, etc.), and elegant places to eat. The cost of your meals and beverages in Dubai will vary depending on which restaurants you visit.
Depending on the restaurant, it might cost as little as 20 AED (£4 or US$5.50) or as much as 1650 AED (£342 or US$450) for a "6-course experience with wine pairing" at Atmosphere, the world's tallest restaurant in the Burj Khalifa. Drink costs will vary depending on the restaurant. However, Dubai is more expensive than other big cities in terms of alcoholic beverages.
Tips For Saving Money When Visiting Dubai
Let us provide you with some suggestions if you're going to Dubai on a tight budget. Dubai is best visited in the cooler months of December to February. However, this is also the time of year when hotel rates are higher, particularly around the holidays.
Tip-Avoid the busiest times of year and travel to Dubai in November, March, and early April to cut costs.
What Are The Offers Of The Best Travel Agency
Considering all the domains like accommodations, transportation, ticket processing, and many other things, you must have to consider the ideal travel agency that not only gives you the ideal and memorable dubai honeymoon tour package but also gives you many other facilities according to your choice and ease and make your honeymoon tour more enchanting. Litso travel and tour is a company that serve its customer for many years. With its great service, it is not only the ideal travel agency but also gives you a travel and honeymoon tour package according to your desire. Here is the detail of the service offered by the company.
Services Included
SIC guided Cultural and Excursion Tour

Private Transfer to hotel from Airport

Domestic Cheap Flights

Hot Air Balloon Ride if it's the package's part

Nights spent in four/ five-star hotels

Tour Guide Services in English

Everyday breakfast, lunch, and dinner, according to the schedule
Services Excluded
Any additional meals or refreshments

Intensive treatment or insurance liability

Anything not expressly indicated in the service 

Visa or other document expenses.
Conclusion
Your preferred mode of transportation will undoubtedly affect how much your journey to Dubai costs. It will cost less to stay in three-star hotels, eat at local eateries, and use public transit than to only spend time in five-star hotels and hotels. However, you may consider litso travel and tours as it is the ideal travel agency. With its cost-friendly service, it is not only the leading travel agency but also provides you with a vacation package that meets your needs.